Turbulence Training Review
Rating:





Program Author : Craig Ballantyne
Price : $39.95 or $77.00 (Deluxe Package) or $297 (Elite Edition ).
Delivery Method : Digital download
Refund Policy : 60 days unconditional
The Packages
Basic Package: E-book
Deluxe Package : as basic plus The Turbulence Training 6-Month Bodyweight Manual, The TT Bodyweight 500 Workout Challenge, The TT for Athletes 8-Week Training Program, The TT Ultimate Advanced Bodyweight Workout, The TT Bodyweight 1000 Fat Burning Challenge
Elite Edition –
Basic Edition plus The Turbulence Training Membership Site & Video System and The 6- Month Bodyweight Turbulence Training Manual and other manuals 

Who is Craig Ballantyne?
Craig Ballantyne is a Certified Strength and Conditioning Specialist (CSCS). He is the author of many popular articles  in magazines such as Men's Health, Men's Fitness, Oxygen, Maximum Fitness, and Muscle and Fitness Hers. He is also a nutritionist.
Is Turbulence Training a scam or is it a great muscle building and fat loss program?
Craig Ballantyne's Turbulence Training is one of top selling muscle building and fat loss program on the internet.
Is it just another fat loss program making unrealistic claims?
Turbulence Training is a total body fat loss routine. Very recently, Jillian Michaels herself endorsed the Turbulence Training
routine in one of the Biggest Loser episodes on television.
These routines are scientifically researched by Craig Ballantyne himself. Most people wonder how 25 minutes is enough to build muscle and burn fat at the same time. Well,
there is no secret to Turbulence Training workouts. The special trick is the superset training that combines an upper body exercise with a lower body exercise that completes one
set.
In a superset, two exercises are performed one after the other followed by a rest which sounds like ONE set. Craig did a great job of picking the most effective exercises that
require larger range of motion which leads to more calories burned during the workout and also boosts your metabolism to burn fat for over 24 to 48 hours!
Example of an effective superset would be :
1a. Bench Press (3×8)
1b. DB Squat (3×8)
Simply doing the workout above will boost your metabolism to burn fat throughout the day.
Another concept that Craig claims to believe in is the variation factor. In the Turbulence Training manual, you will find over 7 workout routines, each to be performed 4 weeks before
shifting to the next one.
You HAVE to change your workout every 4 weeks because Craig claims that the most experienced you get with exercises, the faster your body adapts to the workouts. In order to challenge
your body to keep your metabolism boosted, you need to change your workouts every 3-4 weeks for optimal results.
What separates Turbulence Training from other fat loss and muscle gain publications?
This is not a typical e-book that starts with a long-winded introduction and a lot of  'fillers' containing senseless information. Craig is a straight talking guy and that comes across in his text.
Turbulence Training is aimed at  busy people who are unable to commit to 1-2 hours a day of exercises. 30-45 minutes ( 25 minutes of strength training followed by 20 minutes of Interval Training TT Style and you're done. ) 3 times a week should show appreciable  results. It is designed so that most of the exercises can be done at home, so no need for expensive equipment or gym memberships, you might need to invest in a few barbells and an exercise ball.
The core principle of Craig Ballantyne's "Turbulence Training" program is that the body needs to be in a "state of unrest " or Turbulence to experience the maximum number of benefits. If the body is not allowed to fall into a regular exercise routine, it is always "ready "– anticipating which physical exertion activity the body will undergo next.  This type of training for your body allows you to continue shedding the fat – which is the main culprit of weight gain – even whilst you are sitting down, sleeping or when you are physically inactive. The key principle which makes Craig Ballantyne's "Turbulence Training" work is interval training.  You will do the same set of exercises for four weeks and after that period, the workouts will change accordingly. This is designed to keep the body in a "state of unrest ".
It's not the quantity of the exercises but the quality that counts.
What you get from the "Turbulence Training" e-book is a set of exercises which are designed as short bursts of workout that are intense as they can be, to keep your body in a state of Turbulence and stimulate  fat loss even whilst you are inactive.
Strength training is the other main part of the e-book.
Short and intense exercises will help you shed the excess pounds and your muscle strength will be given a boost to give you the best body type that you can have.
All of the questions  about this principle are suitably answered when you read Craig Ballantyne's "Turbulence Training" e-book.
What's in the program?
Turbulence Training combines resistance and interval training. This combination is the key success factor to lose fat and gain muscles at the same time.
It is a so called "high intensity" workout program  designed for 30-45 minutes sessions 3 times a week.
Craig Ballantyne's "Turbulence Training" comes with a 26-week workout routine designed to be used over and over again.  Ideally you should change the set of exercises that you are doing every four weeks or so to keep up the "Turbulence "– in order for you to achieve the best physical shape you can.
"The contract"
This isn't a legally binding document !
It is a written commitment to undertake the program.
I would strongly advise you to put it in a place where you can see it all the time, e.g. the refrigerator. It should help to remind you to push on with the program once the initial excitement has died down.
Each workout session follows this pattern:
a 5 minute warm up

15-20 minutes strength-training

15-20 minutes of interval training
Let's check out one of the routines Craig recommends in Turbulence Training program:
1. wide squat (hands in air)- 15 reps
2. basic push up- 15 reps
3. basic lunge w/pause- 12 reps each leg
4. decline push ups- 15 reps
5. jumping jacks- 60 reps
6. mountain climbers- 12 each leg
Do NOT rest between exercises, use 1 minute rest after you complete all exercises and repeat for 3 times.The workouts included in the program are short and intense in order to get the "Turbulence Training" to work to your advantage.
It would help if you are already in good shape at the start of the program, but it is not essential as the workouts can be adapted to suit any fitness level.
Once you start with the "Turbulence Training", you should train at least three days per week. Each session is about 45 minutes.  During this period, you can alternate between two sets of workouts. Each workout set consists of resistance training exercises followed by interval training.
Two to four sets for each exercise program, and six to eight repetitions per set is a great way to go about the "Turbulence Training".  Rest for a minute between exercises, perform a couple of warm up sets and conclude each workout with interval training.
Craig recommends that the sessions should be varied,changing the workouts every three to four weeks – so that it doesn't get boring for your body and it keeps that state of Turbulence.
All the exercises are well illustrated with color pictures.
The Diet Chapter
Craig Ballantyne is also a nutritionist and he uses this knowledge in an entire chapter in the "Turbulence Training" e-book which is dedicated to teaching you how to eat the right things with a good diet program to speed up the weight loss process.
Keep a food journal and write down everything that you eat so that you can keep a close watch of your calorie intake.
Plan to eat six small meals throughout the day instead of having the traditional breakfast, lunch and dinner.
Craig  does not mince with words, no matter how hard you exercise you will not lose weight unless you combine it with a good diet program. Craig clearly makes this point in the "Turbulence Training" e-book.
Unlike other fat loss programs that require you to count exactly what you eat and monitor your intake very carefully, in the Turbulence Training nutrition bonus, you find very simple
instructions that will help you calculate how much you need to eat to lose fat effectively while showing you a simple technique to help you identify how much you need to eat. This removes calorie counting and allows you to enjoy your meals while helping you get results at the same time.
TTmembers.com site
With the Turbulence Training package you receive 3 months membership of the TTmembers.com site. This is a membership site where you can meet other people who are following TT routines to lose fat and build muscle.
You also get personal support from Craig Ballantyne himself. He usually responds to your questions within 24 hours.
Plus Points For Turbulence Training
Work out at home
Suitable for men and women
No long cardio required
Intense effective workouts
Lots of variety in the exercises to combat boredom
Minimal need for equipment
It is a not based on a restrictive or fad diet
A solid muscle gain and fat loss program that doesn't  require you to perform daily exercises
Negative Points For Turbulence Training
If you're into long cardio sessions it's not for you
You need  a pair of dumbbells, a bench and a stability ball
You need something for chin ups and pull ups aswell
No videos about the core exercises to show you exactly what to do, just pictures and explanations unless you upgrade
Not for those who want to build large bulky muscles- this is not a bodybuilding program
It is not a program with special focus on getting ripped six pack abs. I recommend Mike Geary's Truth About Abs program if that is your aim
Who will benefit most from Turbulence Training?
In short everybody, Men and Women.
The intensity of the program can be determined based on the  level of your fitness, even if you are a beginner who hasn't done any workouts previously.
Should You Buy It?
Craig Ballantyne's "Turbulence Training" is probably one of the best e-books of its kind in the market.
The Turbulence Training program including its valuable bonuses is well worth the price of $39.95
The program comes with a 8 week money-back-guarantee. If you are not happy you can get a refund without any questions asked. it's risk-free to give it a try.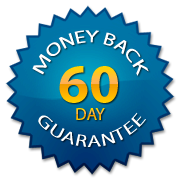 .